Description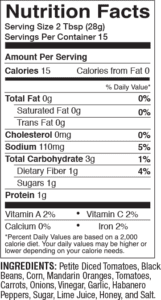 Ingredients:
Petite Diced Tomatoes, Black Beans, Corn, Mandarin Oranges, Tomatoes, Carrots, Onions, Vinegar, Garlic, Habanero Peppers, Sugar, Lime Juice, Honey, and Salt, and Other All-Natural Spices.
This is the best-tasting black bean salsa on the market. Its a great mix of black bean, tomato, corn and spices.  Use chips and eat it as a dip, put it in your meat loaf or on a taco salad as a low-calorie topping.  Try it out and you will find you have a new favorite salsa.
Perfect for Quesadillas, Sandwiches, Omelets, and chips and dip
Can't get enough of our Black Bean Salsa? All Natural Black Bean Salsa cases will save you 5%!