Description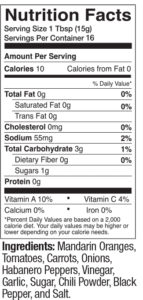 Ingredients:
Mandarin Oranges, Tomatoes, Carrots, Onions, Habanero Peppers, Vinegar, Garlic, Sugar, and other all-natural spices.
Way back, in 1 BT (before TorchBearer) people wandered through life eating porridge and bugs (we think) in a never ending search for flavor and happiness. Luckily for you, you live in a time where all the TorchBearer deliciousness is at your fingertips and that's all thanks to Sultry Sauce. Our flagship sauce is a tasty blend of carrots, mandarin oranges, tomatoes, and habaneros that is poised to become your favorite hot sauce. Use it to spice up any dish, such as mac and cheese or meatloaf or just dump it on a taco or spaghetti. We have quite a few recipes here you can try as well! It's spicy, it's sweet, it's Torchbearer's Sultry Sauce.
Can't get enough of our Sultry sauce? Select "Case of 12" below and save 5%.
Note: We have switched from 8 oz to 5 oz woozy bottles for this product.