Description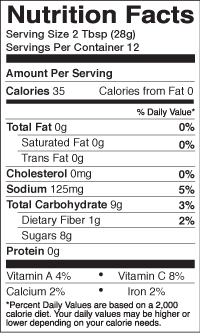 Ingredients:
Tomato Paste, Water, Brown Sugar, Honey, Chipotle Peppers, Apple Cider Vinegar, Habenero Peppers, Garlic, Molasses, Yellow Mustard, Salt, and Other All Natural Spices.
Is it sweet? Is it smokey? Is it spicy? Yup. This flavor trifecta comes together brilliantly in our Chipotle BBQ. Add a kick to your bbq chicken or wake grandma up by sneaking some onto her hot dog. You may have thought you knew bbq but, and trust us on this, Chipotle BBQ will teach you what's left to learn.
Can't get enough Chipotle Barbeque Sauce? All Natural Chipotle Barbeque Sauce cases will save you 5%!