Description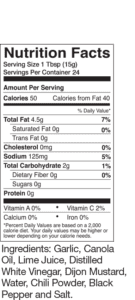 Ingredients:
Garlic, Canola Oil, Lime Juice, Distilled White Vinegar, Dijon Mustard, Water, and Other All-Natural Spices.
This is our BEST SELLER. First released in September 2011, we haven't been able to stop making it since–it's the most delicious garlic flavor your tastebuds have had the pleasure to try. Put it on steaks, salads, subs, pizza, pasta sauce, wings, or just dip french frieds in it. The only limits are set by your imagination.
Not ready for a case? Oh My Garlic Sauce individual bottles are great to get started!