Description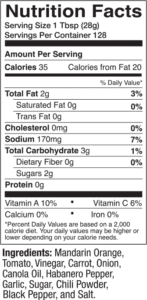 Ingredients:
Mandarin Orange, Tomato, Vinegar, Carrot, Onion, Canola Oil, Habanero Pepper, Garlic, Sugar, and All-Natural Spices.
Try our take on the classic Buffalo wing sauce. We still use fruits and vegetables to give it the great flavor people come to expect from us, and use just enough vinegar to give it that Buffalo bite people know and love.
Perfect for Wings, chip dip, Pork Chops!
Not ready for a case? All Natural Buffalo Wing Sauce individual bottles are great to get started!