Description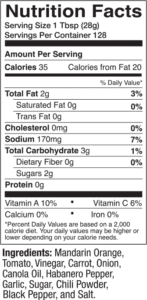 Ingredients:
Mandarin Orange, Tomato, Vinegar, Carrot, Onion, Canola Oil, Habanero Pepper, Garlic, Sugar, and All-Natural Spices.
Remember a time when Buffalo sauce was the hottest new thing and it burned like the wrath of Hell? Well the past is the past and Hell's gotten a lot hotter. That doesn't mean, however, there isn't still room for an old favorite. TorchBearer's Buffalo Wing Sauce has an intense buffalo flavor with just the right amount of heat to give any wing fan a tasty treat. And remember, here at Torchbearer, we suggest putting our sauces on everything.
Can't get enough of our Buffalo Wing sauce? All Natural Buffalo Wing Sauce cases will save you 5%!